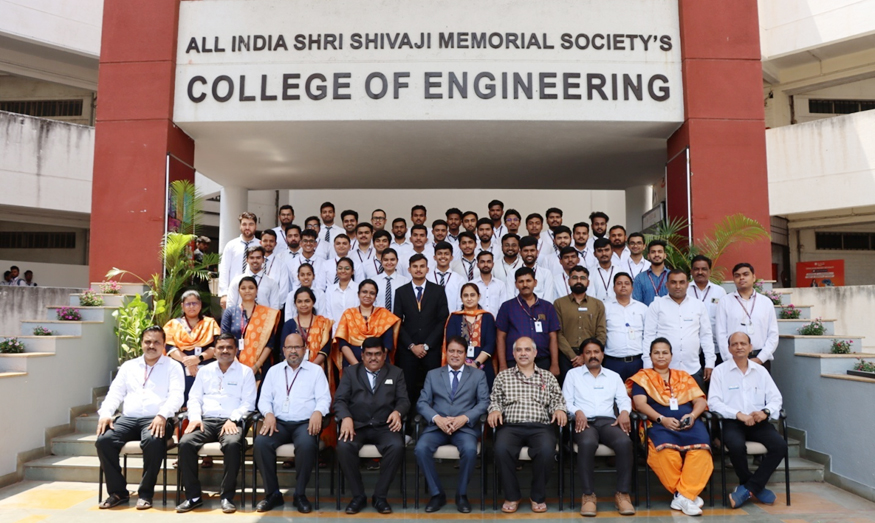 Department of Civil Engineering was established in AY 2002-03. It has evolved steadily since then and made significant strides in terms of infrastructure, faculty expertise, student excellence and research activities. The Department presently has highly qualified and experienced faculty members with strong commitment to the engineering education and professional ethics. The department has well equipped laboratories and also active student's chapters of professional bodies like IEI, IGS, ISTE and IWWA.
Recently from the academic year 2022-23, PhD Research center for the Civil Engineering has been started.
Intake of Civil Engineering Department
Programme
UG – Civil Engineering
PG- Structural Engineering
Ph.D – Civil Engineering
Vision:
Nurture the talent in civil engineers to work as global leaders for development of society.
Mission:
Provide quality education to develop competent civil engineers.
Create awareness among students for sustainable development.
Cultivate the leadership qualities for becoming successful entrepreneurs.
Short Term Goals
To augment infrastructure and processes for enhancement in teaching learning.
To extend assistance to students for competitive examinations, higher studies and entrepreneurship.
To establish Research centre.
Long Term Goals
To develop testing and consultancy facilities.
To have cent percent Doctorate faculties.
To strengthen collaboration with the reputed institutes and industries.
Program Outcomes (PO's)
PO 1:
Engineering knowledge – Apply the knowledge of mathematics, science, engineering fundamentals, and an engineering specialization to the solution of complex engineering problems.
PO 2:
Problem analysis – Identify, formulate, research literature, and analyze complex engineering problems reaching substantiated conclusions using first principles of mathematics, natural sciences, and engineering sciences.
PO 3:
Design/development of solutions – Design solutions for complex engineering problems and design system components or processes that meet the specified needs with appropriate consideration for the public health and safety, and the cultural, societal, and environmental considerations.
PO 4:
Conduct investigations of complex problems – Use research-based knowledge and research methods including design of experiments, analysis and interpretation of data, and synthesis of the information to provide valid conclusions.
PO 5:
Modern tool usage – Create, select, and apply appropriate techniques, resources, and modern engineering and IT tools including prediction and modeling to complex engineering activities with an understanding of the limitations.
PO 6:
The engineer and society – Apply reasoning informed by the contextual knowledge to assess societal, health, safety, legal and cultural issues and the consequent responsibilities relevant to the professional engineering practice.
PO 7:
Environment and sustainability – Understand the impact of the professional engineering solutions in societal and environmental contexts, and demonstrate the knowledge of, and need for sustainable development.
PO 8:
Ethics – Apply ethical principles and commit to professional ethics and responsibilities and norms of the engineering practice.
PO 9:
Individual and teamwork – Function effectively as an individual, and as a member or leader in diverse teams, and in multidisciplinary settings.
PO 10:
Communication – Communicate effectively on complex engineering activities with the engineering community and with society at large, such as, being able to comprehend and write effective reports and design documentation, make effective presentations, and give and receive clear instructions.
PO 11:
Project management and finance – Demonstrate knowledge and understanding of the engineering and management principles and apply these to one's own work, as a member and leader in a team, to manage projects and in multidisciplinary environments.
PO 12:
Life-long learning – Recognize the need for, and have the preparation and ability to engage in independent and life-long learning in the broadest context of technological change.
Program Specific Outcomes (PSO's)
Graduates will able to:
PSO1: Exhibit technical knowledge in planning, analysis, design and management for
infrastructural development.
PSO2: Apply the innovative technologies to address Civil Engineering problems of the society.
PSO3: Enhance professional abilities to meet industrial need.
Program Educational Objectives (PEOs):
To produce civil engineering's who will be fully aware of the impact of their work on society, both nationally and globally.
To achieve a high level of technical expertise to succeed in civil engineering practice and research.
To develop civil engineers who acquire professionalism, leadership and commitment to professional development through lifelong learning.
Areas for ongoing research work:
Energy and environment
Construction industry
Structural Engineering
Transportation engineering
Geotechnical Engineering
Water resource Engineering
Salient Features of the UG and PG programmes
Well established laboratories with all necessary advanced digital instruments/equipment and all facilities required for providing quality education to the students.
Deserved faculty members with vast experience from industry and research.
Effective and Innovative teaching-learning process by continuous assessment of students and personal attention.
Every year our students achieve excellence in various competitive examinations.
Overall Development of Students through
Periodical presentations of the students to assess for progress in seminar and project work.
Study circle activities through Students Chapters like IEI, IGS, ISTE and IWWA.
Participation of students in National level Hackathon through Innovation Cell.
Soft skill and technical skill training for students to improve placement.
Better interaction between Industry and Institute for all our students through MOUs, Industry Visits for each course, Expert's sessions from industry and Internships.
Honors Course:
State-of-the-art courses on 'Honors in Architecture and Town Planning' and 'Honors in Metro Construction' are introduced as an Honors Program under Civil Engineering curriculum starting from June 2021. The honors courses will start from TE civil and will continue in BE as well.
The students who have scored 6.5 CGPA are allowed to opt Honors course. Choice is given to individual student to undertake Honors programs from the third year engineering (Fifth Semester) to fourth year engineering (Eighth Semester). Honors programs will be opted from offered programs by SPPU. Students once registered for the Honors programme need to complete all credits assigned for the specific Honors Programme in the period of 4 years from the Semester-V. Degree with Honors will be awarded only after the completion of Honors Programme along with respective UG programme degree.
Link for the Syllabus of Honors Courses:
Honors Syllabus Architecture and Town Planning 02.09.2021