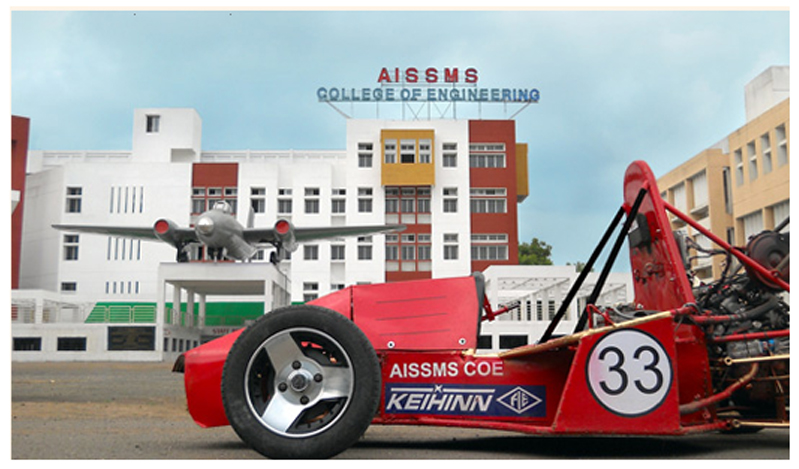 Vision:
Service to society through quality education
Mission:
Generation of national wealth through education and research
Imparting quality technical education at the cost affordable to all strata of the society
Enhancing the quality of life through sustainable development
Carrying out high-quality intellectual work
Achieving the distinction of the highest preferred engineering college in the eyes of  the stakeholders
Goal:
To inculcate learning habits
To create an environment to make the students creative and innovative
To promote project based learning
To strengthen industry – institute interaction
To ensure continuous improvement in quality
To develop entrepreneurship skills
To nurture the spirit of team work
To catalyze all – round development of students
To develop technologies for sustainable development
The All India Shri Shivaji Memorial Society (AISSMS) was established in 1917 by Late H H Shrimant Shri Shahu Chhatrapati Maharaj of Kolhapur to promote the noble cause of education. The AISSMS COE, Pune is a co-education Institute established in 1992.
The College of Engineering is affiliated to the University of Pune. It conducts AICTE approved courses leading to the degree of Bachelor of Engineering (BE) in eight engineering streams and Master of Engineering (ME) in Seven engineering streams.
Bachelor of Engineering (BE) Total Intake - 660
Master of Engineering (ME) Total Intake – 99
| Sr. No. | Branch | Branch Code | Course Starting Year | Intake |
| --- | --- | --- | --- | --- |
| 1 | Chemical Engineering | 627850710 | 2011 | 09 |
| 2 | Civil Engineering: (Structure Engineering) | 627821210 | 2011 | 18 |
| 3 | Artificial Intelligence and Data Science | 627894310 | 2013 | 18 |
| 4 | Electrical Engineering: (Power Electronics & Drives) | 627890210 | 2011 | 18 |
| 5 | E & TC Engineering: (IoT and Sensor Systems) | 627893010 | 2010 | 18 |
| 6 |  Mechanical Engineering Design | 627890410 | 2013 | 18 |
| | | | | |
PhD Research Center:
The AISSMS College Of Engineering – Best Engineering College in pune , India has highly qualified and experienced faculty on its roll. The laboratory, computer and library facilities in all Departments are well developed. The College also has a Central Library and Central Computing Facility. The College gives substantial emphasis on the teaching learning process. The College also provides unlimited broadband internet facility to the students. Besides national journals, the international journals are made available to the students and the faculty. The teaching programme also gives emphasis on practical training and industry-institute interaction.
National Symposium: College organizes a National Symposium for professionals on Forefronts of Engineering. Symposia have been organized on the themes of such as Durability of Concrete, Advances in Bioprocess Engineering, Power for Sustainable Development and Advances in Automotive Engineering and many more.
AISSMS Engineering Today: College organizes National Level Students' Symposium and Exposition every year, to provide opportunities for the development of the students in academic as well as co-curricular and extra-curricular activities. The event is sponsored by leading industries and professional organizations.
Research & Development: Core and inter-disciplinary research is carried out in the identified fore-front areas. College has number of sponsored research projects undergoing.
All Department (PO, PSO, PEO and Course Outcomes)
Department of Chemical Engineering 1. PO, PSO, PEOs   2. Course outcomes
Department of Civil Engineering 1. PO, PSO, PEOs   2. Course outcomes
Department of Computer Engineering 1. PO, PSO, PEOs  2.Course outcomes
Department of Electrical Engineering 1. PO, PSO, PEOs  2. Course outcomes
Department of Electronics and Telecommunication Engineering 1. PO, PSO, PEOs  2. Course outcomes
Department of Mechanical Engineering 1. PO, PSO, PEOs   2. Course outcomes
Department of Production Engineering 1. PO, PSO, PEOs   2. Course outcomes