2018 -19:
Prof G C Chikute, Prof K N Kulkarni and Department had arranged One day Workshop on " Advanced Trends in Environmental and Transportation Engineering" organised by Department of Civil Engineering, Aissms COE, Pune in association with Savitribai Phule Pune University, on March 26th 2018.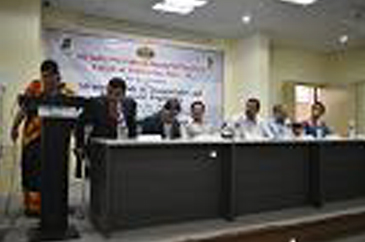 Prof P B Nangare had arranged the inauguration of the institute industry Club and a guest Lecture by Dr. Kiran Bhagate (Managing Director, IDAC Pvt. Ltd).on July 25th 2018.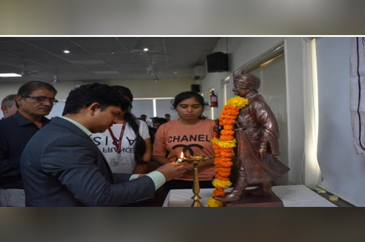 A model making competition was arranged on Sept 3rd 2018. for students focusing on the various elements of the buildings, types of buildings and new techniques in Civil Engineeringon. Co coordinators – Prof S P Khedekar and Prof C S Misal.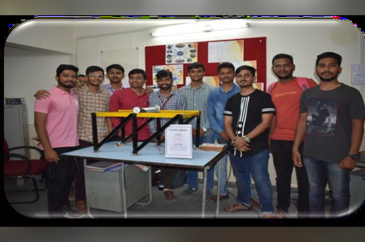 Department of Civil Engineering had arranged an Interaction lecture on "Higher studies in German University". Coordinator Prof Shilpi Bhuinyan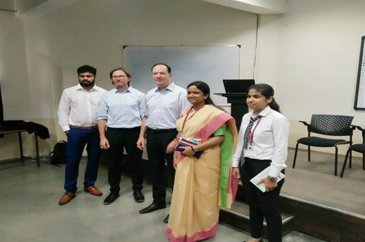 One-day workshop on "Advanced Trends in Transportation and Environment Engineering" on 26 March 2018
Hemil Modi Alumni of Civil Engineering Department, of the year 2011 has brought laurel to the college by the working in the field of Aeronautics. He is currently working as a Research Scientist at NASA's Ames research centre, as a member of "Lunar Plant Growth Habitat team."


Individuals pictured include Lunar Plant Growth Habitat team members and NASA's Ames Research Center top management: Dr. Harry Partridge, Emmett Quigley, Dr. Chris Mckay, Dr. Jacob Cohen, Hemil Modi (circled one), Dr. Robert Bowman, Dr. Pete Worden, Arwen Dave, Falguni Suthar, Nargis Adham, and Sangeeta Sankar
Mihir S Sane (T.E. Civil) was a winner of Gold Medal in 2nd Roll Ball World Cup 2013 tournament held at Nairobi, Kenya during 3rd October to 8th October 2013
The Indian Team Won The World Cup Championship 2013: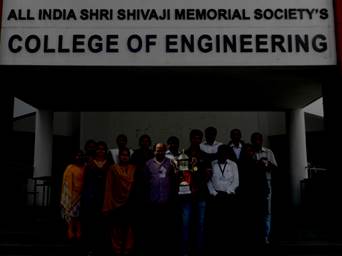 Mihir Sane with all the faculties of Civil Department
The "Overall Trophy" was bagged by "Civil Engineering" Students in the Inter-Department sports meet consecutively for forth time.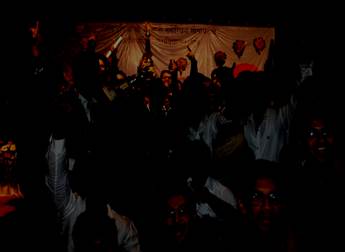 The students of Civil Engineering receiving the Overall Trophy
The Department had organized "Parent Meet" held on Monday 10th March 2014 co-ordinate by Dr. M S Deshpande, Prof. V N Patil, Prof. P R Modak and concerned FE faculties.
The Department had organized a "Parents Meet" on friday the 7th February 2014 for interaction with the parents of S.E., T.E. and B.E. Civil students, co-ordinate by Prof. K.N. Kulkarni, Prof. M S Chiwande, Prof. P R Satarkar, Prof. M D'Cruz and concerned faculties.
Department of Civil Engineering organized Model and Poster making compition for SE, TE and BE students: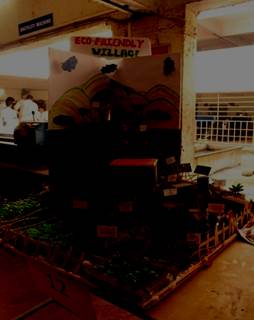 Model of Ecofriendly village Prepaired by the Students of TE
Department of Civil Engineering organized Science Exhibition for the School Students of 9th,10th, 11th and 12th class on 13th September 2013. The exhibition included the Posters and Models prepared by the SE, TE and BE students.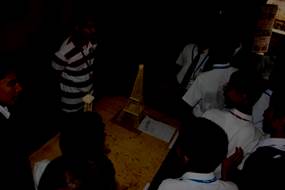 CESTA Activities:
Department of Civil Engineering organised a Expert lecture on 'Mantra of Successful Career' by Mr. Sameer Alone on 28th Feb 2014.
Department of Civil Engineering organised a guest lecture of Mr. D S Kulkarni, Chairman, DSK Groups Ltd, Pune on theme "Entrepreneurship for Civil Engineers" on 26th July 2013.
Mr. D S Kulkarni Mr. D S Kulkarni interacting with students
Department of Civil Engineering organized a guest Lecture on "Impact of Irrigation Project on Environment" by Er.D N Modak Chief Engg(Civil) , Hydro-Electric Project Pune, Water Resources Department. on 5th Sept 2013.
The Department had organized a program of "Farewell Function" for B.E. students on 9th April 2014 co-ordinated by Prof. R.D. Nalawade, Prof. S A Kothari and Prof. S B Funde & faculties of Civil Engineering Department.
A "Teachers Day Celebration" was organized by Civil Department on 5th September 2013 to falicitate all their teaching faculty and non-teaching staff members.
Entrepreneurship Development Cell (EDC):
Guest lecture was arranged on "Practical Execution of Civil work on actual site (Process and Documentations) on 7th Feb 2014.
ICI Activities:
"Inauguration of ICI STUDENTS' CHAPTER" and Guest lecture on "Ready Mix Concrete" by Dr. J.D.Bapat on 7th August 2013 from 3.00 to 5.00 pm.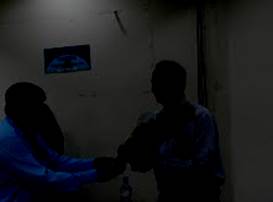 Felicitation of Mr. Telang by Prof. P.B.Nangare HOD
Expert Lecture on "Understanding Cement" by Mr. Ajit Radhakrishnan, Technical Manager Ultratech Cement on 7th October 2013 between 3:00 to 5:00 pm.
Guest lecture on "Ready Mix Concrete" by Mr. Uttam Bhandare & Ashwini Deshpande,Senior Manager Technical RMC on 3rd February 2014 between 3:00 to 5:00 pm
Mr. Uttam Bhandare delivering the lecture Mrs. Ashwini Deshpande delivering the lecture
Expert lecture on "Quality Assurance of Concrete Works" by Mr. Hemant Joshi, Assistant General Manager QA/QC, Shapoorji Pallonji and Co.Ltd. Pune and Mr. R M Telang also adreesed the sudents on 19th March 2014.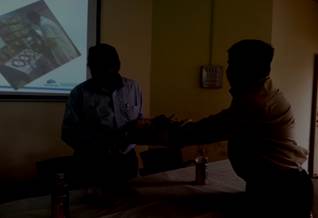 Prof. P B Nangare felicitating Mr. Hemant Joshi
Alumni – Hemil Modi is selected as a Research Scientist in Innovative Technology at NASA Ames Research Center USA.
The Department of Civil Engineering won Overall Trophy for successive three years: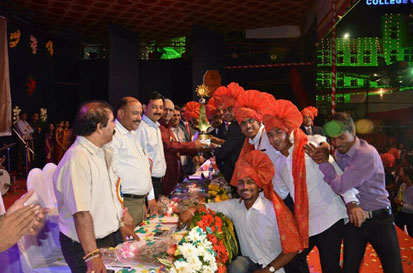 Prof. D.V.Wadkar conveyed Two Days State Level Workshop on "Advanced Waste water Treatment Technologies" on 25 -26 March 2013 in collaboration with Chemical Engineering Department with Invited key Speakers Dr.V.M.Bhandari (Scientist NCL,Pune),Dr.P.B.Dhamole(SCOE,Pune),Mr. Ashwin Navale(Fluid techniques pvt.Ltd,Pune),Dr.V.K.Rathod(ICT,Mumbai),Dr.Sanjay Kamble(NCL,Pune),Dr.Mahulkar(Consultant).
| | |
| --- | --- |
| | |
Prof. V. S. Chavan, Prof. M.S. Chiwande & Prof. S.A. Satarkar has organized a one day workshop on "Water Distribution systems- Problems and Remedies" with key speakers Dr. R. K. Lad (Principal, Subhash Kool College of Engineering, Kedgaon, Daund.), Dr. S. B. Thakare(Principal, Akhil Bhartiya Maratha Shikshan Parishad's college of Engineering & Research, Parvati, Pune.), R.C. Mahulkar (Work with Tata Consulting Engineers, Kirloskar consultants since 1989, Partner & Chief (Inauguration by Chief guest ) Executive of own firm – Engineering & Management Consultants, Pune), Er. A. S. Mulla ( Project Management Consultant, Maharashtra Jeevan Pradhikaran, Pune. ) on 21.09.2012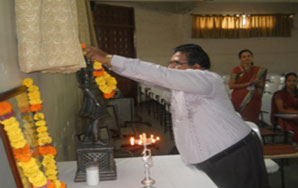 Sagar Hasbe ,Sujay Thube,Shreyash Dare and Raman Vaidya (T.E.-Civil) have won second prize in Asia's Largest Technical Symposium 'Techfest' Organised by IIT Bombay from 3rd – 5th Jan 2013 under event Model Making and Testing.