I3 Report_Civil, AY- 2021-22-Term-I
Industry Institute Interaction Cell Activity Photographs.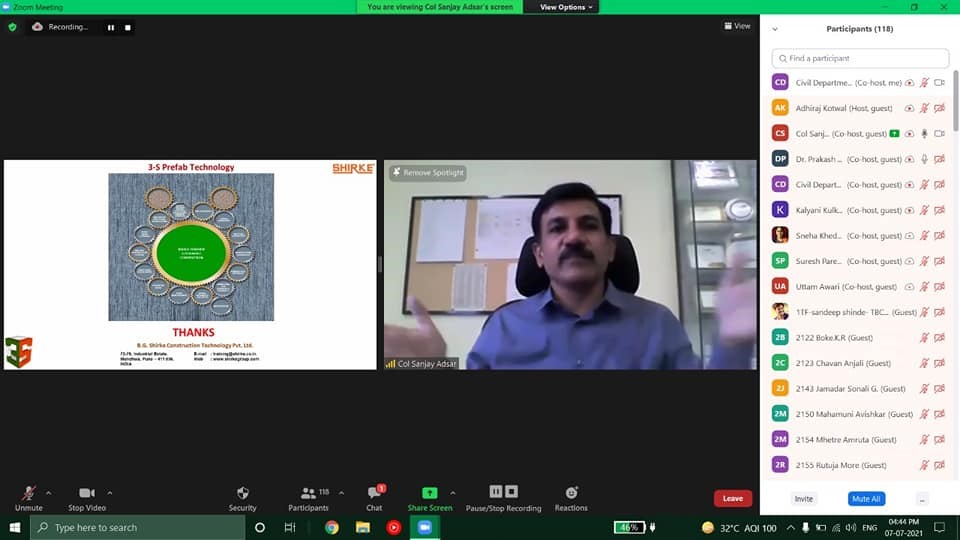 On 07.07.2021 session of AISSMS I Connect organized by Civil Engineering Department with a keynote Speaker Col. Adsar S M, General Manager, B G Shirke Construction Tech Pvt. Ltd. Pune on a topic, 'Precast Construction'. More than 150 participants from different area of Maharashtra have attended program. In this program presence of Chairman BAI – Er. Ashok Atkekar and Er. Govind Kadam from J Kumar Infra projects Ltd., Pune is highly solicited. The entire program is related to Industry Institute Interaction, initiated by Hon. Secretary Shrimant Chhatrapati Malojiraje of AISSMS Pune.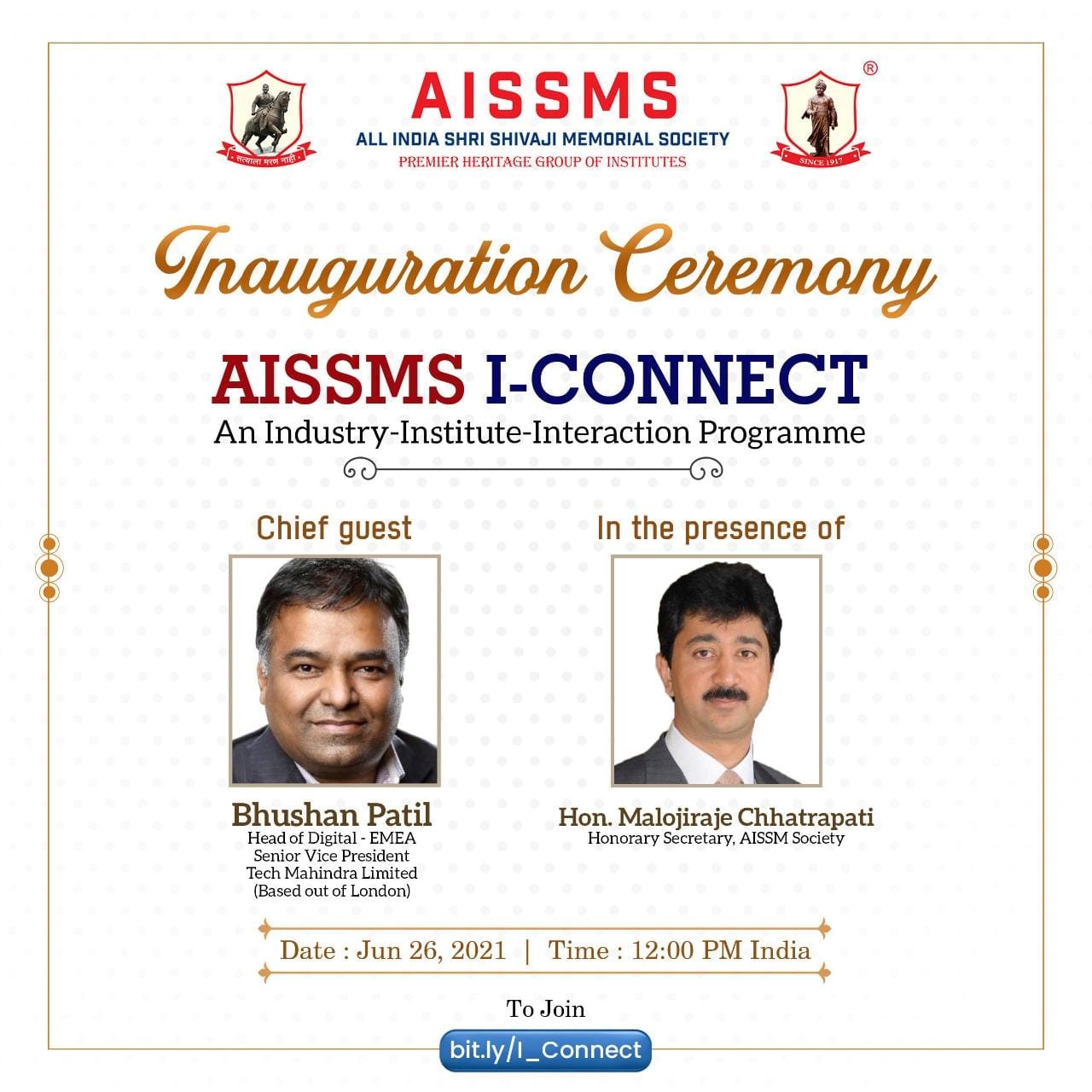 Inaugural function of AISSMS I- CONNECT was organized on 26.06.2021 under the Industry- Institute-Interaction Programme, in presence of Hon. Malojiraje Chhatrapati,Honorary Secretary, AISSM Society and esteemed Chief Guest – Mr. Bhushan Patil (Senior VP Tech Mahindra). Better interaction between institutions and industry is the need of the hour and it is needed to create avenues for close academia and industry interaction in a 360 degree approach for all our students. "AISSMS I-CONNECT " will help us build this close knitted industry and institution to connect globally for our students and faculties.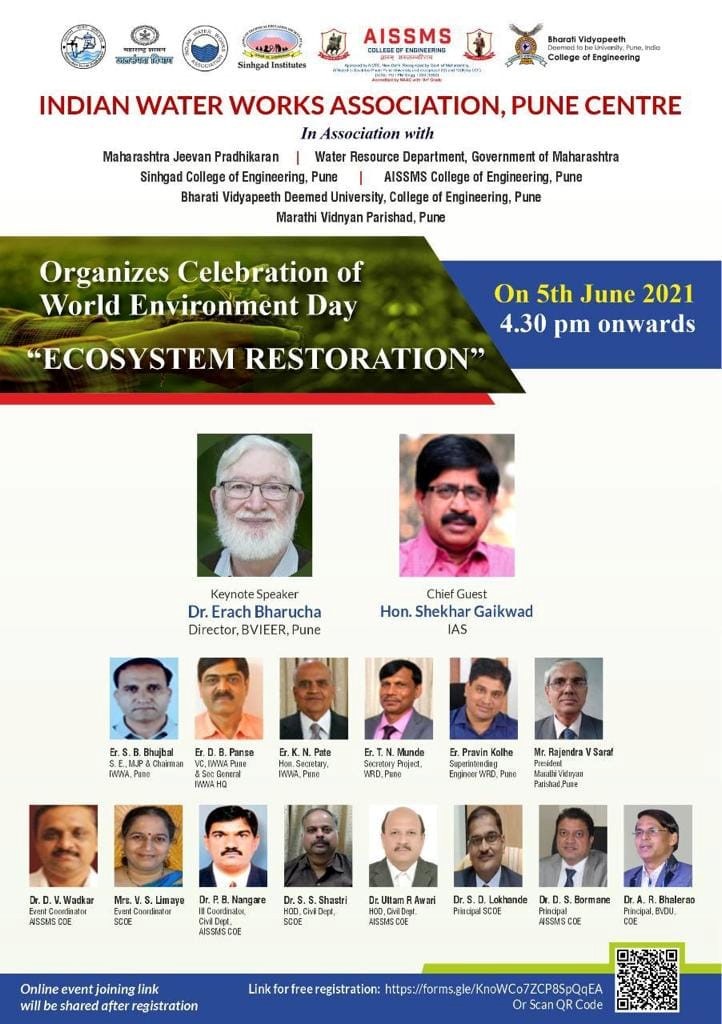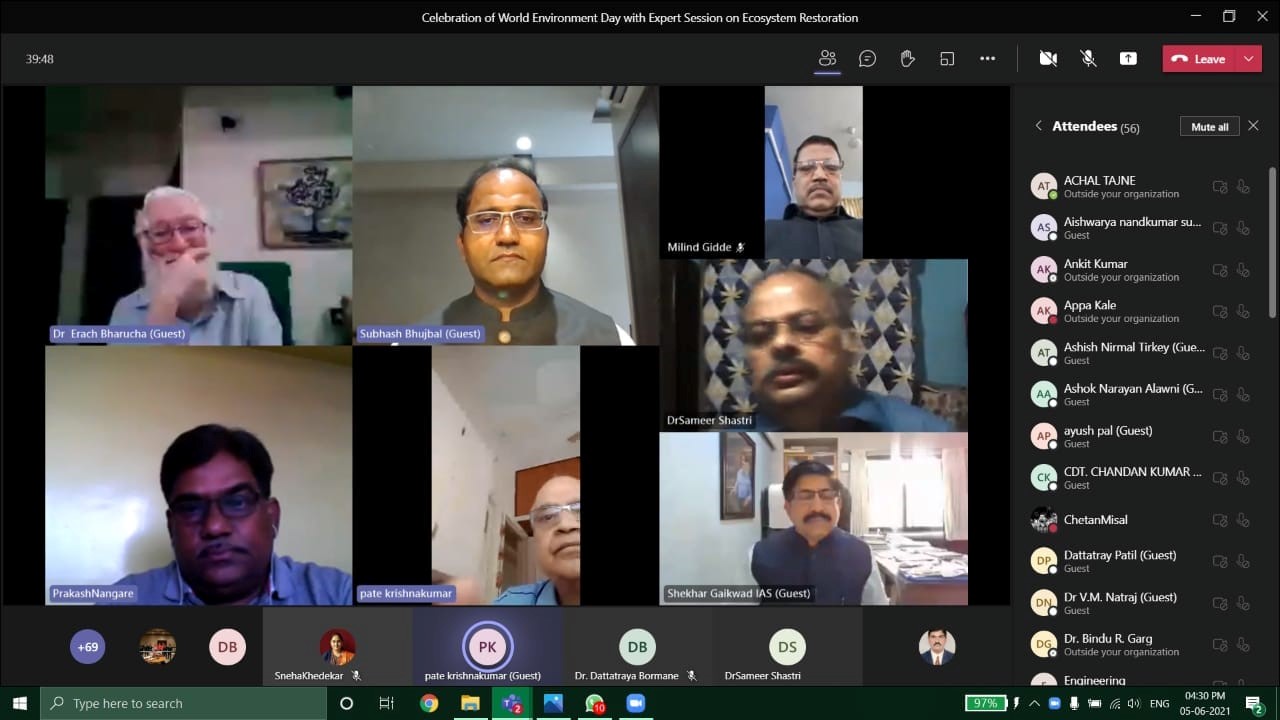 AISSMS COE Pune in support with IWWA Pune,MJP, WRD, Marathi Vidnyan Parishad, BVP's COE &Sinhgad COE celebrated "World Environmental Day" on 5th June 2021. Total 956 participants were registered for this event, out of that few participants were attended program from Pakistan (abroad), Karnataka State, Andhra Pradesh(81), West Bengal &Tamilnadu. In this program keynote address is given by Dr. Bharucha Erach prominent speaker (by profession he is Surgeon) and equally nice presidential address given by Chief Guest Hon. Shekhar Gaikwadsaheb (IAS) Sugar Commissioner, Pune. Principal Dr. D. S. Bormane, HOD Dr. U. R. Awari, Bhujbal Saheb (Chairman – IWWA Pune), Patesaheb (Secretory – IWWA Pune), Dr. Shastri, Dr. Gidde, Prof. Mrs Limaye, Dr. Vidula Sohoni, Teaching and non-teaching staff of college participated in the program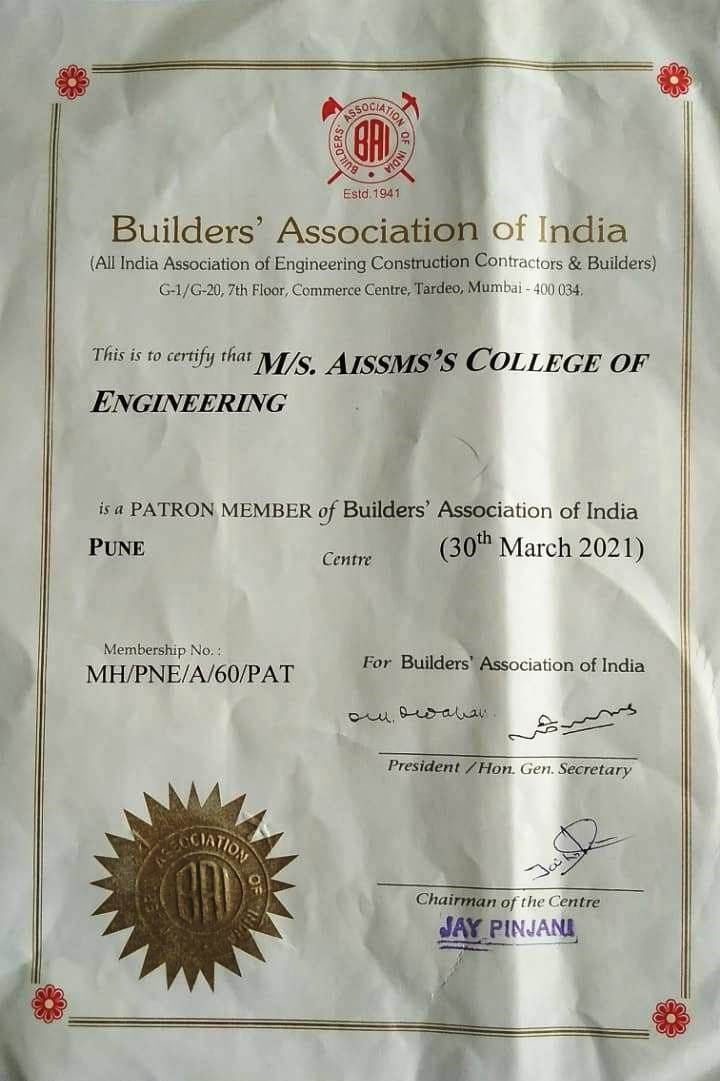 On 26.04.2021 Civil Engineering Dept. extended its Industry- Institute-Interaction via PATRON Membership with Builder's Association of India, Pune Centre. In addition to that College has registered for Intershala and Interenship programs launched by AICTE Delhi. It is possible with great support of Principal Dr. D. S. Bormane Sir, Management, Faculty of and Students!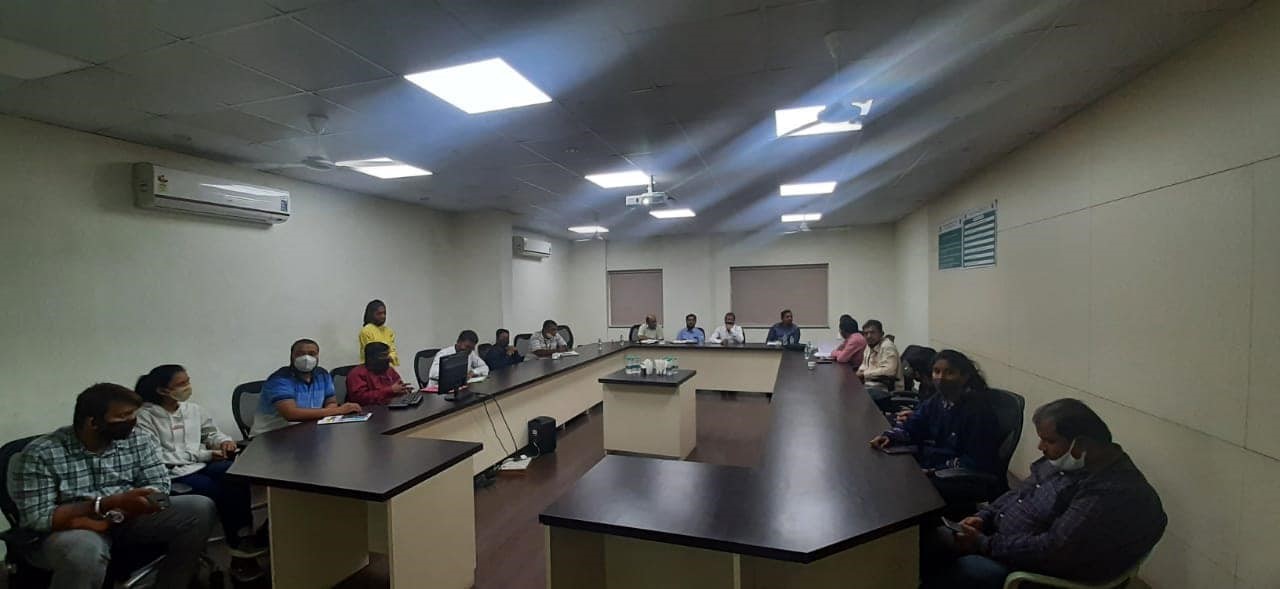 The water reservoir project is undertaken by our institute under UBA and NSS, a flagship program of MHRD, Govt. of India. Govt. officials Hon. Bapu Gade, (Supdt. Engg) Hon. Borkar (Dy. Engg), Hon. Mrs. Golegaonkar (Section Engg), visited to our campus on 13.02.2021 and meeting has been conducted on Water Reservoir Development in presence of Principal Dr. D. S. Bormane, Dr U R Awari(HoD), Dr R D Nalwade, Prof. Vivek Chavan, Prof. P R Modak. Dr. P B Nangare (I3Coordinator) has prepared project proposal of design the dam and given presentation along with team from Civil Engg dept.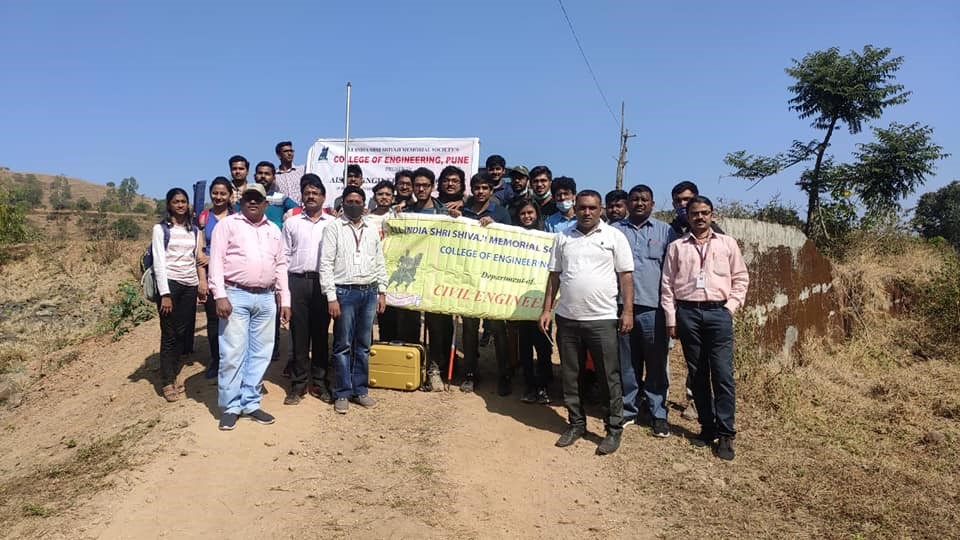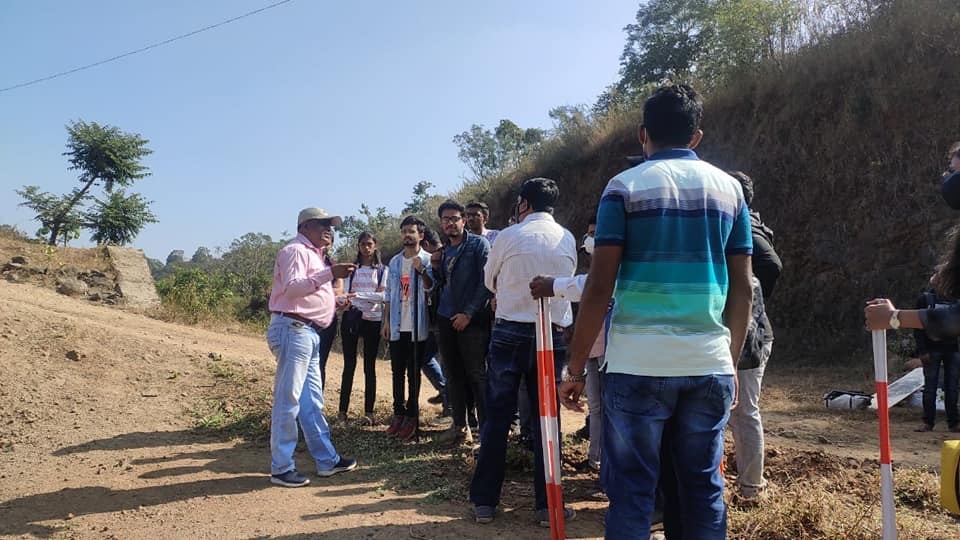 On 21.01.2021 Department of Civil Engineering has taken initiative to resolve Dam problems at Kalyan Village. Today Dam survey is conducted with ETS, Auto Level, involvement of Civil Engineering and NSS Student of AISSMS COE Pune.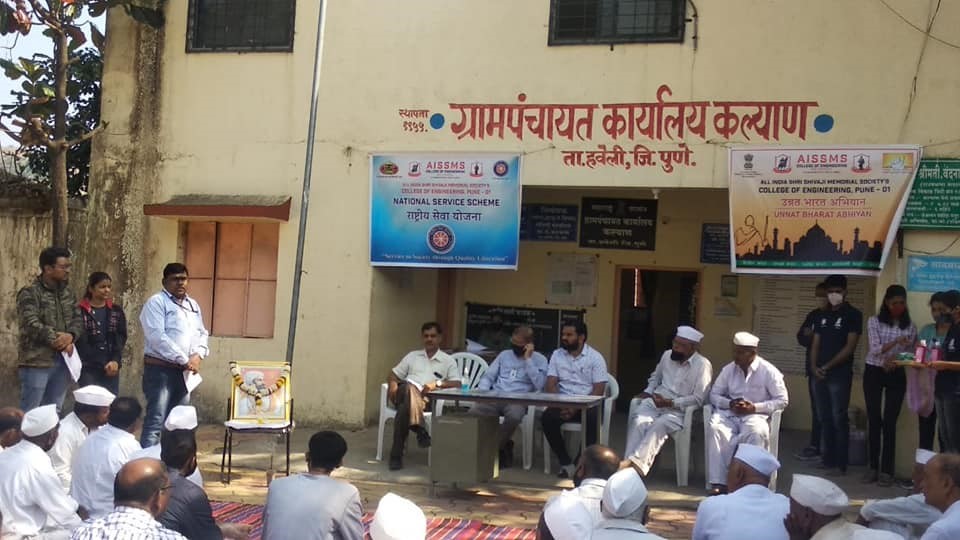 On 15.01.2021 Students of Civil Engg Dept. and NSS TEAM along with Principal Dr. D S Bormane Sir, Dr. P B Nangare, Dr. Shejwal, Prof. Chavhan and Prof. Jadhav visited Kalyan Village located at the foot of Sinhgad Fort, 35 km away from Pune. Activities has been carried out like Planning of Dam redesign with Survey to resolve Dam problems, Health Check up Camp for villagers and Tree Plantation.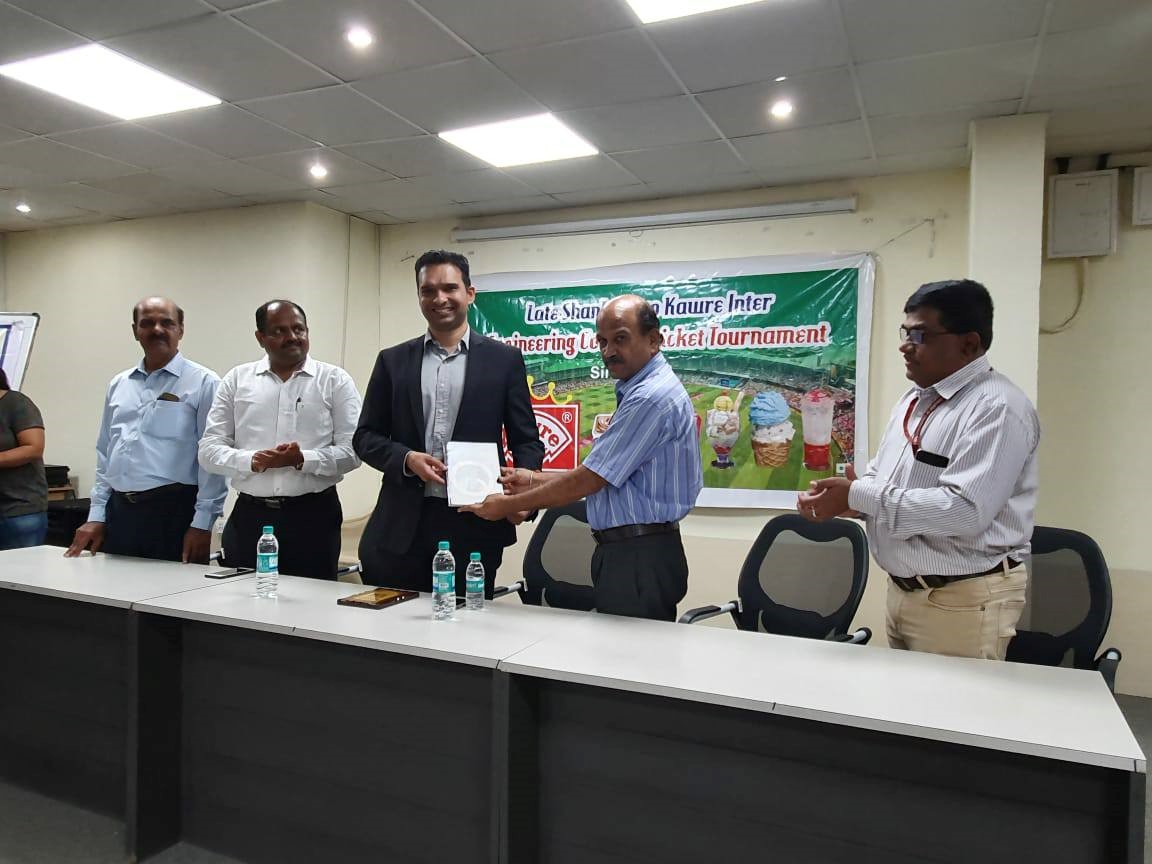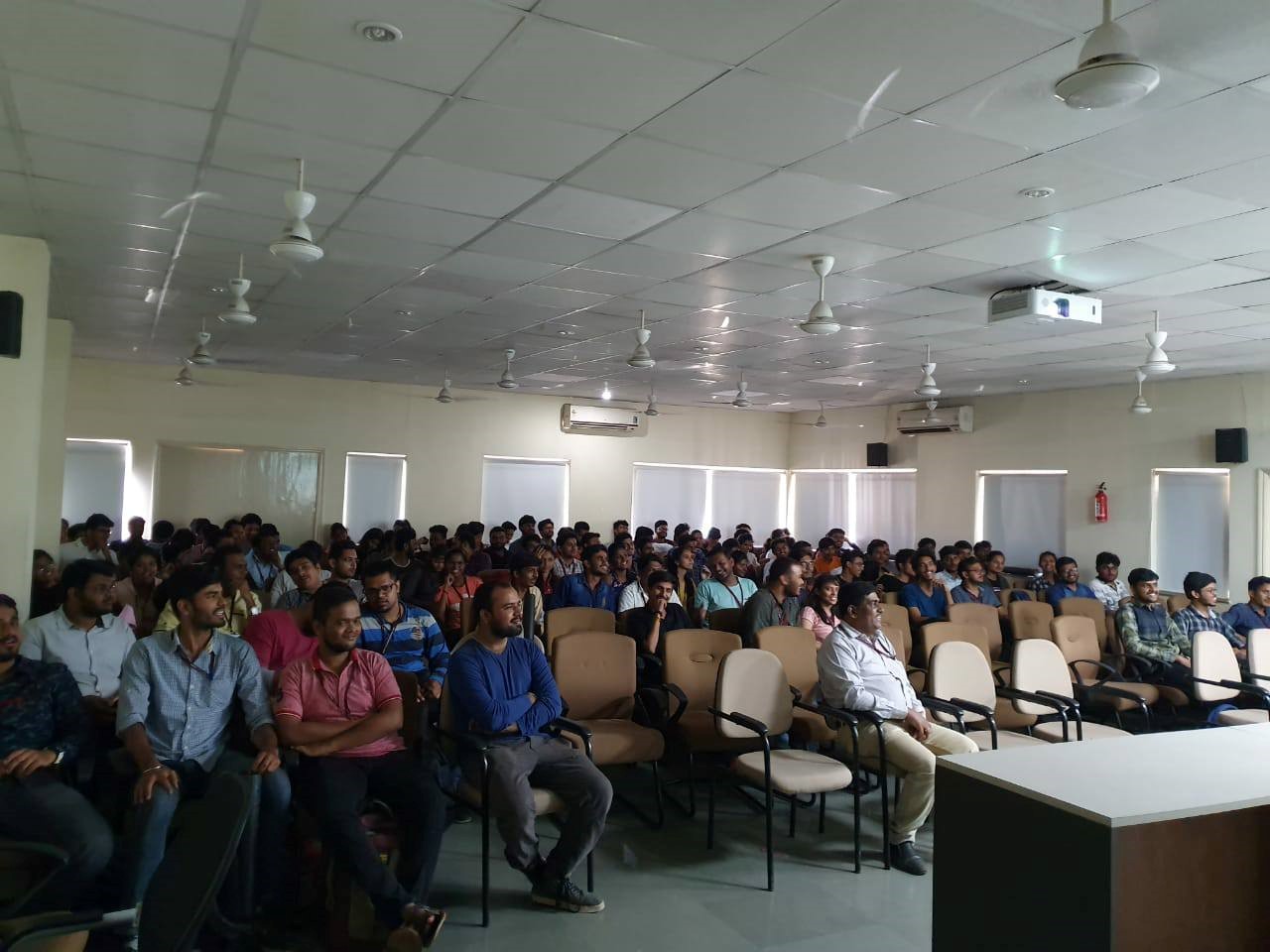 On 15.10.2019 Department of Civil Engineering, AISSMS's COE Pune organized an Expert talk of Pratapsingh Bhonsle, Principal Engineer – Global Solutions Pvt. Ltd, on topic 'Feasibility Study on Pune Metro' for TE and BE students under IE chapter in association nation with Industry Institute Interaction Club.