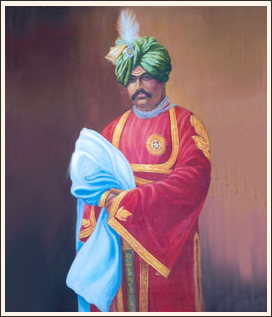 H H Shrimant Shri Shahu Chhatrapati Maharaj of Kolhapur
On Nov 10, 1917, Rajarshi Chhatrapati Shahu Maharaj announced in Delhi, his proposal to establish a Memorial of Chhatrapati Shivaji Maharaj in the City of Pune. In the proposal, he declared his intention of creating a central hall with Chhatrapati Shivaji Maharaj's life size statue and a hostel to accommodate a hundred Maratha students. The institute was to act as a rallying centre for Maratha activities all over India, giving a concrete shape and impetus to the diverse endeavours for the advancement of the Maratha community. Rajarshi Chhatrapati Maharaj wrote letters to Rajesaheb of Dhar and Dewas and said it was a psychological movement to do the work. Demanding a liberal and prompt support from all the Maratha Rulers, Rajarshi Chhatarapati Shahu Maharaj added that the matter stood very near his heart. To enlist their support, he sent Pawar and Khaserao Jadhav to them. Khaserao took an active interest in the education of the Marathas and was entrusted with the execution of the scheme about the Shri Shivaji Memorial.
At the end of November 1917, Khaserao visited Pune and sent an estimate to Rajarshi Chhatrapati Shahu Maharaj for the building, lands and other things. The cost of the memorial estimated at Rupees three lakhs. On Dec 27, 1917, Rajarshi Chhatrapati Shahu Maharaj, on a pressing demand from Khaserao Jadhav, presided over the 11th session of the Maratha Educational Conference at Khamgoan. Further discussions on the Memorial were conducted at Khamgoan. Thereafter around 7.5 acres were acquired at Bhamburda village in front of Shanwar Wada for Rupees One lakh.
On Sept 1, 1921, Rajarshi Chhatrapati wrote to Lord Reading, then Governor General of India, to secure the Shivaji Memorial the honour of its foundation stone to be laid at the hands of his Royal Highness, the Prince of Wales. Despite a little reservation on the part of the Viceroy, Rajarshi Chhatrapati Shahu, in his inimitable way, prevailed on the Viceroy to ensure the presence of the Prince.