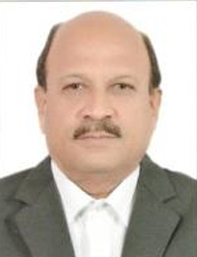 Dr. Uttam R. Awari
HOD Civil Engineering
B. E. (Stru. Engg.), M. E. (Structures), Ph. D. (Civil Engg.)

Contact Details:-
Office: 020-26058587, -26057660
Extn.: 1301
Email: urawari@aissmscoe.com
AISSMS College of Engineering offer under graduate programme in Civil Engineering with intake 120 from academic year 2002-03 and post graduate programme with intake of 18 in structural Engineering in academic year 2011-12. Department of Civil Engineering has a strong team of highly qualified and experience faculty members.
The Department is well equipped with Laboratories and computing facilities. Forefront areas have been identified for carrying out research activities in construction management, structural engineering, concrete technology, geotechnical engineering, water resources engineering, environmental engineering and transportation engineering. Department has well equipped laboratories of surveying, fluid mechanics, testing of materials, geotechnical engineering, environmental engineering and transportation engineering.
Student and faculties actively involved in carrying out in house research project. Department organizes study circle for development of curriculum, extracurricular and co curricular activities. Department provide facilities for students to participate in extracurricular and co curricular activity at national and international level. As a result of sincere efforts of faculty & state of art facilities provided by the Department, our students are excelling in construction as well as other related industries.