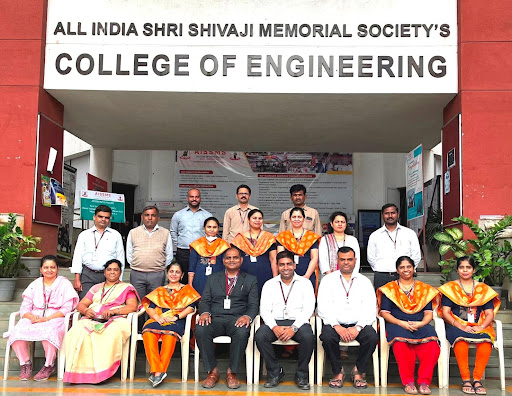 18-19-20th October 2022
Since its inception in 1992, the "Department of Electronics Engineering" has completed 30 years and has grown tremendously in teaching and research. From the year 2017, the department changed to "Department of Electronics and Telecommunication Engineering".
AISSMS College of engineering is the best college for Electronics and Telecommunication Engineering. The Department offers a regular four-year B.E program in "Electronics and Telecommunication Engineering"  having an intake of 60 and Post Graduate program M.E. (Electronics &
Telecommunications Engineering – IOT and Sensor Systems) started in July 2021 having an intake of 18 under the affiliation of Savitribai Phule Pune University.
Previously the post graduate program was  M.E. (Electronics & Telecommunications Engineering – VLSI and Embedded Systems) started in July 2019
The Department presently has highly qualified and experienced staff on its roll. The activities of the Department are conducted, besides teaching, in the areas of research, consulting, training, alumni and Training, and Placement. Department is having Advanced Computing Laboratories and Advanced Communication laboratories with high-end equipment's in the field.
Vision:
Society Growth and Welfare through Competent Electronics and Communication
Engineering Graduates.
Mission:
To impart quality education in the field of E & TC engineering to solve societal and industrial problems with focus on trans disciplinary approach
To provide stimulating learning environment with modern tools & technologies.
To produce dynamic graduates with ethics and moral values.
To facilitate E & TC graduates with sight of innovation
Short-term Goals:
Increase number of Faculty & Student publications in referred journals.
Undertake major and minor research project and fetch research grants from funding agenciesDevelop Virtual Laboratory for core subject
Initiate customized/skill based certified courses
Intensify the use of ICT tools for the promotion of technology
To initiate foreign language courses
Long-term Goals:
Identify and support placements in core industries
To become a center of excellence in the emerging area of Robotics and
Automation
 Motivating student for  competitive
To establish the incubation center to produce more
Promotion of Research and Consultancy by  involving Industry
Strengths:
Experienced Faculty
Effective Teaching – Learning Process
Industry Institute Interaction
Opportunities:
Research, Development, and Consultancy.
Faculty Qualification up gradation
Training Program ,Consultancy and Projects in association with Industries
Program outcomes (PO):
Engineering knowledge:

A graduate student will apply knowledge of mathematics and engineering fundamentals to design electronic circuits and systems such as logical circuits, analog circuits, electrical machines, control and communication systems, digital systems etc. and test the results.

Problem analysis: A graduate student will be able to identify, formulate, solve electronics engineering problems.
Design/Development of solutions: A graduate student will demonstrate the ability to design, implement and evaluate a system, process, component and program to meet the specified needs with appropriate considerations for public, health and safety, society and environment.
Conduct investigations of complex problems: A graduate student will investigate, formulate, analyze and provide appropriate solution to simple and complex engineering problem.
Modern tool usage: A graduate student will provide the solutions by using the Modern electronic and IT Engineering Tools and Technologies for practicing electronic Engineering problems.
The engineer and society:A graduate student will demonstrate the ability to learn the impact of industries on society by visiting different industries and understand the importance of industrial products for analog and digital circuits and systems
Environment and sustainability: A graduate student will understand the importance of environmental issues and will design sustainable systems.
Ethics: A graduate student will understand the professional and ethical responsibilities to meet the socio-economic challenges
Individual and team work: A graduate student will function effectively as an individual, member or leader of a team in multidisciplinary setting.
Communication: A graduate student will be able to communicate effectively at different technical and administrative levels.
Project management and finance: A graduate student will demonstrate knowledge and understanding of engineering and management principles to manage projects.
Life-long learning: A graduate student will recognize the need for and have the preparation and ability to engage in independent and life-long learning in the broadest context of technological change.
Program Educational Objectives (PEO):
PEO1: To build strong fundamental knowledge among graduates required to pursue their higher education and continue professional development.
PEO2: To enable graduates to identify, analyze and solve Electronics and communication engineering problems by applying basic principles and modern techniques.
PEO3: To enable graduates to innovate, design and develop hardware & software components and groom their ability to succeed in multidisciplinary & diverse field.
PEO4:To imbibe professional attitude, effective communicational skills, team work skills for becoming a responsible, cultured human being
Program Specific Outcomes (PSO):
PSO1: Analyze Design and test Analog and Digital circuits and systems for given application.
PSO2: Implements technical blocks of hardware – software co-design for Embedded & Robotics automation application.
PSO3:

Apply knowledge of E & TC system for social and environmental problems as a individual member or leader of diverse team in multidisciplinary settings
The Department has well-equipped laboratories on the following subjects.
Communication Engineering
Electronics Circuits
Embedded System Design
Very Large Scale Integration
Switching and Digital Electronics
Computer Laboratory
Research & Faculty Development:
The Department has faculty strength of 16, who encompass all the sub-disciplines of Electronics Engineering and are active in research in all the areas. They also collaborate with the faculty from other disciplines within and outside the institute. Faculty members have published papers in refereed International/National journals and conferences.
The research activity involves active participation from the students, faculty and the industry. The Department has received generous grants from funding agencies like Savitribai Phule Pune University.
Facilities:
The Department is constantly modernizing the infrastructure and lab facilities and is well supported in infrastructure and resources through the Institute.
Facilities like a departmental library, computer centre and seminar hall are available for students and staff.
Library:
The Department operates its library/reference section/Digital library for both faculty and students. The Department library has a collection of books in various areas of Electronics Engineering. It has a wide collection of reference books, project reports, seminar reports, Instruction manuals etc.