Department of Civil Engineering
Vision
Nurture the talent in civil engineers to work as global leaders for development of society.
Mission
To provide quality education and prepare the nationally competitive civil engineers for successful career in civil engineering.
Education with the strong fundamentals to create the awareness among students for sustainable development.
To cultivate globally employable civil engineers.
Program Outcomes (PO's)
PO  1 :
Engineering knowledge: Apply the knowledge of mathematics, science, engineering fundamentals, and an engineering specialization to the solution of complex engineering problems.
PO 2 :  
Problem analysis: Identify, formulate, review research literature, and analyze complex engineering problems reaching substantiated conclusions using first principles of mathematics, natural sciences, and engineering sciences.
PO 3 : 
 Design/development of solutions: Design solutions for complex engineering problems and design system components or processes that  meet     the specified needs with appropriate consideration for the public health and safety, and the cultural, societal, and environmental considerations.
PO 4 :
Conduct investigations of complex problems: Use research-based knowledge and research methods including design of experiments,analysis and interpretation of data, and synthesis of the information to provide valid conclusions.
PO5 :
Modern tool usage: Create, select, and apply appropriate techniques, resources, and modern engineering and IT tools including prediction  and modeling to complex engineering activities with an understanding of the limitations.
PO6 :
The engineer and society: Apply reasoning informed by the contextual knowledge to assess societal, health, safety, legal and cultural issues and the consequent responsibilities relevant to the professional engineering practice.
PO7 :
Environment and sustainability: Understand the impact of the professional engineering solutions in societal and environmental contexts, and demonstrate the knowledge of, and need for sustainable development.
PO8 :
Ethics: Apply ethical principles and commit to professional ethics and responsibilities and norms of the engineering practice.
PO9 :
Individual and team work: Function effectively as an individual, and as a member or leader in diverse teams, and in multidisciplinary settings.
PO10 :
Communication: Communicate effectively on complex engineering activities with the engineering community and with society at large,                     such as, being able to comprehend and write effective reports and design documentation, make effective presentations, and give and receive                    clear instructions.
PO11 :
Project management and finance: Demonstrate knowledge and understanding of the engineering and management principles and apply               these to one's own work, as a member and leader in a team, to manage projects and in multidisciplinary environments.
PO12 :
Life-long learning: Recognize the need for, and have the preparation and ability to engage in independent and life-long learning in the                        broadest context of technological change.
Program Specific Outcomes (PSO's)
PSO 1
Apply the concepts to analysis, design, construction and maintenance of civil engineering projects.
PSO 2
Enhance communication and leadership skills for overall development of students.
PSO 3
http://aissmscoe.com/wp-content/uploads/2016/05/Course-Outcones-2.pdf
Awareness to the students for environmental and social issues.
Civil Engineers play a vital role in creating the man-made environment and in protecting the natural environment, bringing together science and art to create much of the tangible fabric of today's society. They plan, design, construct, maintain, and manage airports, bridges, tunnels, buildings, harbor facilities, dams, highways, waterways, pipelines, sanitation systems, and other aspects of the built environment. The field of civil engineering is about community service, development and improvement, planning, design, construction, and operation of facilities essential to modern life, ranging from transit systems to offshore structures to space satellites. They are problem solvers, meeting the challenges of pollution, traffic congestion, drinking water and energy needs, urban redevelopment, and community planning. The scope of Civil Engineering also includes responsibility for environmental and social impact, which takes on ever-increasing importance as citizen awareness of society's problems, environmental quality, energy sources, and improvement of the quality of life. As a result, students in this field learn to address complex social problems and develop facilities that support community values and protect the environment.
Graduates of the Civil Engineering program may work as construction, environmental, geotechnical, hydraulic, structural, transportation, or water resource engineers. Students may also choose to attend graduate school, thus preparing for careers in research or teaching, or to solve more sophisticated design problems. Civil Engineers are employed by national, state, and local governments, as well as the private sector. Students are taught to apply state-of-the-art computer technologies to the solution of problems in these areas, ensuring that graduates of the Department of Civil Engineering are well-prepared to contribute to the betterment of tomorrow's society.
The course leading to a Bachelor's Degree in Civil Engineering was started in the year 2002, with intake of 60 students and additional intake of 60 students in the year 2012.
Also M.E. Structures was started in the year 2011 with intake of 18 students.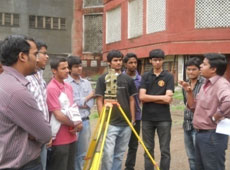 Prof. P.R. Modak Explaining the Functions of Total station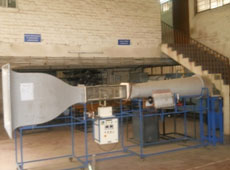 Wind Tunnel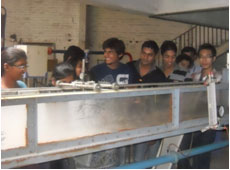 Tilting Flume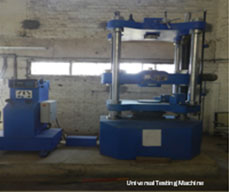 Universal Testing Machine