GRANT RECEIVED FOR PROJECTS: –
Following Proposals are granted by BCUD, Savitribai Phule Pune University in the year 2016-2017
| | |
| --- | --- |
| Title of Research Project | Principal Investigator |
| Investigations on Performance of Spark Ignition Engine Fueled with Hydrogen Gas as an Alternate Fuel | Prof S J Navale |
| Performance of Diesel using Preheated Bio-diesel | Prof V R Patil |
| Automation for Bone Alignment in Post-Surgery Monitoring and Control for Biomedical Instrumentation | Prof P S Aglawe |
| | |
FOREFRONT AREAS FOR RESEARCH
Computational Fluid dynamics
Mechatronics
Nanotechnology
Mechanical and Automotive Systems Design and Development
Thermal Engineering
Tribology
Sponsored Research have been carried out in the Department
Sr No

Name of the Project

Principal

Investigator

Sponsored
By

Amount

1

Investigation Of Convective Heat Transfer Coefficient Using Different Turbulators
Prof P A Patil
ASHRAE, USA
$1725

2

Investigation of Enhancement in Condensation Heat Transfer Coefficient Using Micro-fin
tube
Prof P A Patil
ASHRAE, USA
$4606

3

Development Of Latent Heat Energy Storage For Solar Applications
Prof A V Waghmare
BCUD, Pune
Rs 1.5 lacs

4

Ultrasonic Measurement Of Fluid Film Thickness In A Bearing
Prof D Y Dhande
BCUD, Pune
Rs 1.5 lacs
1. INVESTIGATION OF CONVECTIVE HEAT TRANSFER COEFFICIENT USING DIFFERENT TURBULATORS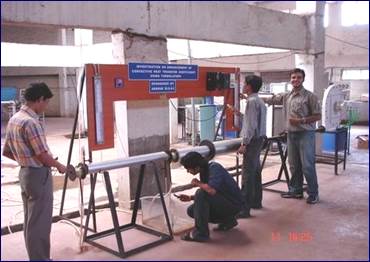 It is the experimentation on Air/Water heat exchanger. Convective heat transfer coefficient of air is very less. Experimentation is carried out to improve it. Investigation of convective heat transfer coefficient of air with and without turbulators is made. Air/Water Heat exchangers are used in Refrigeration and Air-conditioning units.
2. INVESTIGATION OF ENHANCEMENT IN CONDENSATION HEAT TRANSFER   COEFFICIENT USING MICRO-FIN TUBE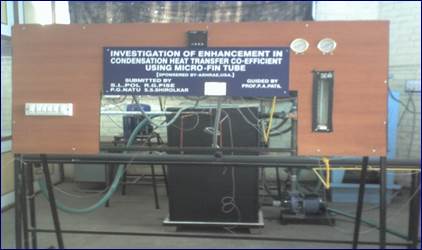 Experimentation is carried on Vapour Compression Refrigeration System. Different alternative refrigerants are tested and performance of the system is checked. Alternative testing is done using Micro-fin tubes in condenser. Objective of this experimentation is to reduce the size of the condenser.
3. DEVELOPMENT OF LATENT HEAT ENERGY STORAGE FOR SOLAR APPLICATIONS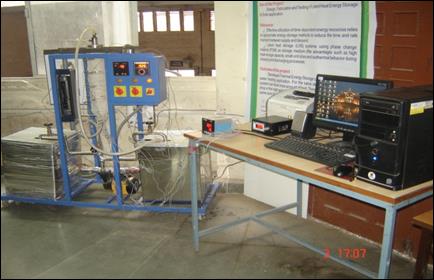 Thermal Energy Storage is used in solar thermal applications. To reduce the size of energy storage sensible heat can be replaced with latent form. Latent thermal energy storage works at constant temperature with less volume.
4. ULTRASONIC MEASUREMENT OF FLUID FILM THICKNESS IN A BEARING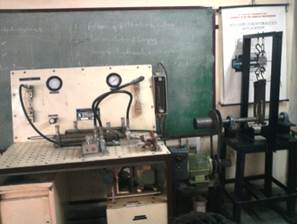 Fluid film thickness in a journal bearing is measured by using Ultrasonic technique. It is useful in online measurement of fluid film thickness in various micro applications of engineering where lubrication is essential.
PATENTS DATA OF FACULTIES
| | | | | | |
| --- | --- | --- | --- | --- | --- |
| Sr.No | Application Number | Title | Applicant | Inventor | Patent File |
| 1 | 201621006374 | Variable Roof & Bonnet Diffuser | | M P Bauskar | 24/02/2016 |
| 2 | 201621032190 | Fail Safe Circuit for Vehicle Brakes | M P Bauskar |  M P Bauskar | 21/09/2016 |
| 3 | 201621035109 | Smart Fuel Measuring System | M P Bauskar | C S Choudhary, M P Bauskar | 14/10/2016 |
| 4 | 201621036033 | Safe Pass through Tunnel or any Construction | M P Bauskar | M P Bauskar | 21/10/2016 |
| 5 | 68/MUM/2015 | Variable Stiffness Passive Suspence System with adjustable spring Mount | S V Chaitanya | S V Chaitanya | 08/01/2015 |
| 6 | 3928/MUM/2015 | Design and Development of Novel Passive Suspension System for Two Wheeler Automobile | S V Chaitanya | S V Chaitanya | 08/01/2015 |
| 7 | 3236/MUM/2014 | Waste Heat Recovery by Modified Pan Support of Domestic LPG stove | V R Patil | V R Patil | Patent file |