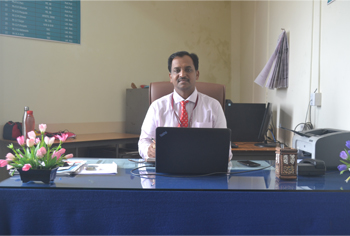 Dr. D. G. Bhalke
Head of Department and Professor,
Department of Electronics and Telecommunication Engineering
Office Ph: +91-20-26058587
E-mail: dgbhalke@aissmscoe.com
I welcome you all to the Department of Electronics Engineering. It is supported by 16 faculty members and 06 non- teaching staff. Electronics Engineers produced by this Department have contributed to industrial development over the last 13 years at national and international level. Department has a good liaison with the industry.
Department has well equipped laboratories and excellent computational facilities. World class software like MATLAB, Simulink, Multisim, Psim, CadFeko, Xilinx, Microwind, etc. are available in the Department to work on top-of-the line projects in various areas of Electronics Engineering. Department is having Advanced Computing Laboratory and Advanced Communication Laboratory with high end equipments in the field from world brands like Tektronics and Agilent. Faculty members and students are actively engaged in research.
For overall development of the students, Guest Lectures from eminent persons in the field are arranged; Industrial Tours, Technical Workshops, Soft Skill training programs are arranged on regular basis.
Electronics Engineering Students' Association (EESA) helps the students to arrange the various programs in the Department. It leads to develop the leadership and managerial qualities of the students. Institution of Engineers, India (IEI) Students' chapter is very active in the Department. Every year students organize a Technical Event 'SILICON FUSION' under the aegis of 'AISSMS ENGINEERING TODAY'. In this, events like Technical Paper Presentation, Technical Quiz, Robotics, Project Competition are conducted. The Prizes are sponsored by various industries. Students from all over India, in Engineering field, are participating in this event.
Students are encouraged to pursue higher education like ME/MTech and MS. All eligible students are placed in various industries.
Consistently, the result of BE (Electronics) class is more than 90%. Department has a track record of University Rankers (TOP 10).