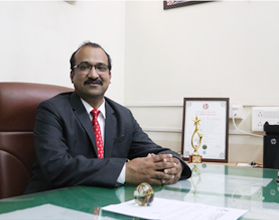 Dr. M. Y. Naniwadekar
PhD (Chemical Engineering)
Research Centre: NCL Pune
Awarded by: SPPU Pune
ME (Chemical Engineering), TKIET Warananagar
BE (Chemical Engineering), PVPIT Sangli
Charted Engineer (IEI)
LM-SESI LM- IIChE, AMIE, LM-ISTE
Contact No.: (Off.) +91 20 26058587, 26057660 Ext. 1201
E-mail:
chem.hod@aissmscoe.com 
mynaniwadekar@aissmscoe.com
Hearty welcome to the Department of Chemical Engineering at AISSMS College of Engineering, Pune! The course leading to a bachelor's degree in Chemical Engineering was started in the year 1996. Two year full time PG Program leading to ME Chemical Engineering was started in the year 2011. The department has evolved since then with leaps and bounds in terms of faculty expertise, infrastructure, and quality of education and student performance. Department also run research centre leading to Ph. D program from 2014 onwards. The Department is a vibrant place with well-qualified, experienced full time academic staff from reputed institutions including IIT and ICT Mumbai and dedicated supporting staff.
Savitribai Phule Pune University (SPPU) has awarded permanent affiliation status for the UG program. BE Chemical Engineering program is an excellent blend of fundamentals of Chemical and allied branches combined with practical skills which are essential to begin professional careers after graduation. Our students are exposed to practical problems through Department's 10 well equipped laboratories including Software Laboratory for advanced computations and simulations using software like MATLAB and CHEMCAD. Department also has Research Laboratory equipped with high end analytical equipment like UV Spectrophotometer, COD Digester etc. and experimental facilities such as Bioreactor, Vacuum Dryers and Environmental Discovery System (EDS) exclusively to cater for the academic projects of students. Induction of students in academic/sponsored projects as early as on the onset of second year followed by series of Technical Presentations thereon by all the students help them become totally competent and confident Chemical Engineers.
Industrial tours and In-plant training are arranged in reputed chemical firms for our UG Students every semester to link classroom teaching with working chemical plant. Variety of workshops, guest lectures, and webinars on advanced/emerging topics in Chemical Engineering/Career progression are arranged for students. Reputed firms visit our campus to recruit the graduating engineers.
Students play a major role in the Department activities too. Every year, they organize Departmental Technical event called 'CHEMIXIR' under the auspices of AISSMS Engineering Today where students across India participate. Students participate in various cultural, sports and technical competitions held at various Institutes spread across the state. The department has three active students' chapters, namely AIChE (American Institute of Chemical Engineers), IIChE (Indian Institute of Chemical Engineers) and IEI (Institute of Engineers (India)), which are actively engaged in various technical and social activities. Department fosters our students participation & guide them excelling in various events organized at IITs and other reputed institutions.
I wish Chemical students pleasant and successful four years in the Department!