Students Achievements : 2018-19 
33rd Amateur Sports Kick Boxing Association (ASKAM) WAKO Maharashtra had organized 'Senior State Selection & Cadet Junior Open Championship 2018', at Boxing Arena, Balewadi Pune. In this championship, our First Year Engineering lad Master Viraj Vinayak Deshpande has won "GOLD MEDAL" in Kick Light Event and "SILVER MEDAL" in Point Fight Event and is selected for 'National Championship' in Maharashtra Team.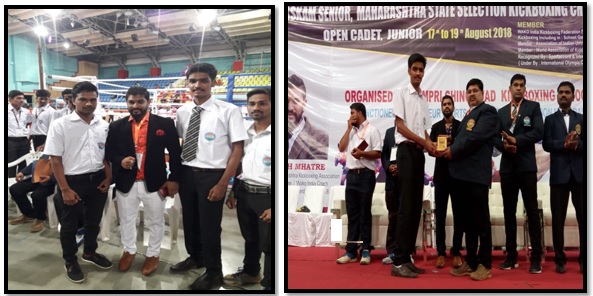 Faculty Achievements: 2018-19 Ph.D awarded:
1. Amol Bhausaheb Patil: Study of certain subclasses of bi-univalent functions from Shivaji University, Kolhapur in Mathematics
Faculty Achievements: 2017-18 Ph.D awarded:
1. Dr. P. A. Nagawade : Preparation, Characterization, photo-catalytic and Rheological behavior of oxide ceramics from Savitribai Phule Pune University in Chemistry.
2. Dr. Prachi P. Vast : Performance Improvement of Reconfigurable Microstrip Antenna with Polarization Diversity and Radiation Pattern Selectivity from Savitribai Phule Pune University in Electronics Engineering.
Faculty Achievements: 2016-17 Ph.D awarded:

1. Dr. S. T. Gawhale : Synthesis and complexation of different calixarenes with transition metals in acidic and basic medium from Amravati University in Chemistry.
2. Dr. Nana Namdeo Shejwal : Influence of amino acids on metal complexes crystals from Dr. Babasaheb Ambedkar Marathwada University, Aurangabad, Maharashtra in Physics.
3. Dr. (Mrs) Vidya Nitin Patil : Experimental investigations on strength and stability of reinforced embankments made from pozzolanic materials from Mumbai University in Civil Engineering.