Department Activities : 
Events in Academic Year 2017-2018:
1)Induction Program
The First Year Induction Program for the AY 2017-18 was held on 1st August 2017 in the AISSM Society Campus​, Shivajinagar. An overall audience of around 900 people including 500 students graced the occasion. The program commenced with the garlanding of Shivaji Maharaja's Statue and Lightening of the lamp by the dignified guests on the dais.
| | |
| --- | --- |
| |   |
The Chief Address of the program was given by Shri Suresh Pratap Shinde, Honorary Joint Secretary AISSM Society​. He congratulated the students for their admission into Engineering and asked them to be optimistic and hopeful of their future because every field is in need of valuable engineers. He enlightened the parents about the mentoring activity carried out focusing on each child's welfare in the forefront of their academics, co-curricular and extracurricular interests and personal problems if any. He also mentioned that the AISSM Society office bearers have willing expressed their openness to be approached in case of difficulty. He suggested the parents and students to begin this their journey of engineering positively. The Head of First Year Engineering, Prof. P. V. Deshmukh welcomed the students to a new beginning of fresh dreams, untried challenges and immense possibilities. He summarized the 26 years journey as a cluster of efforts, improvements, trophies, challenges and time. He expressed his delight in seeing so many parents and students gracing the induction program. He assured the parents a high quality education. He told them that F.E. is a separate department altogether, and students will greatly excel with the help of experienced faculty members and well equipped laboratories. None of the lectures will go off and we need full support from you, dear parents to make your children successful graduates. 1 hour mentoring sessions will be held each week to improve interaction between teachers and students and to guide them in case of any difficulty. He proudly announced the progress of the First Year academic results over the past years, with Anjali Choudhari scoring a smashing 9.92 SGPA.
| | |
| --- | --- |
|   | |
Principal, Dr. D. S. Bormane took upon his shoulders the greatest responsibility of introducing the age old heritage of our society and the great history of our institution. He began his speech by welcoming our stakeholders namely our parents, guardians and students and congratulating them for selecting AISSMS College of Engineering. The main highlights of his speech were as mentioned below:
Presently we run graduate programs in 8 branches and post-graduate programs in 7 branches
The vision and Mission of our institute focus on providing quality education to all sectors of the society at an affordable cost
Our responsibility is to make our students' dream a success.
We aim to fulfill the requirements of the companies and employers by producing graduates who will be technically strong which is the need of today.
We train students to build their problem solving ability, language fluency, stage daring, attitude, intrapersonal skills, interpersonal skills, mathematical skills etc.
Parents know their children very well hence it becomes very important for a good communication between parents and teachers
The mentors deals with the academic as well as personal problems of the students under the head called "Student Counseling Cell" We also provide professional help in cases that need special attention
Likewise we have Sports activities such as Ashwamedh, Shivaji Trophy, Shahu Trophy and Shivanjali (our Grand Annual Cultural Gathering) for the overall development of our students.
The achievements of students have reached great heights including SAE, SUPRA 2011, BAJA-AUTO EXPO 2012 and also AERO DESIGN.
| | |
| --- | --- |
| | |
The event would never have been such a grand success without the mighty efforts put in by the Overall program Co-ordinator, Dr. S. K. Upasani and supported by Dr. Shalakha Virkar for compering , Prof. P. R. Ahir for LCD Arrangement & Sound System, Prof. Prof G P Lohar & M A D'Cruz for Stage Arrangement, Prof R P Saste, Prof P S Pathak & Prof S B Patil for Registration, Prof A B Thakare & Prof S T Gade for Refreshment, supported by Mr. Rajendra Rode for decor, Mr A B Chavan for Photography and all the non-teaching staff.Last but not the least our Training and Placement Officer, Prof. Jitendra Khubani threw light on the impressive progress of the placements made in the previous two years.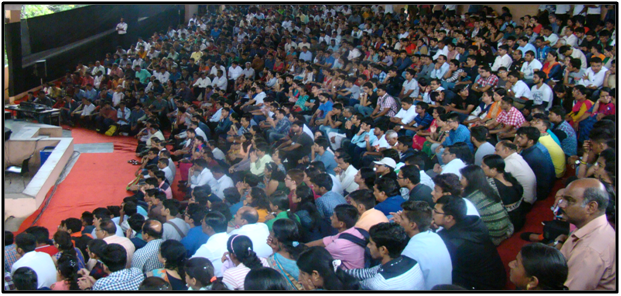 1) Silver jubilee batch Induction Program
Events in Academic Year 2016-2017:
The Induction Program for our Silver Jubilee Batch was held on the 5th of August 2016 at Open Air Theatre, AISSM Society, Shivajinagar, Pune. The Chief Address of the program was given by Mr. Suresh Pratap Shinde, Hon. Joint Secretary AISSM Society who gave the parents and students an insight of the splendid history of our institute. The Head of First Year engineering Department Prof. P. V. Deshmukh, Principal Dr. S.P. Danao and Training & Placement Officer Prof. Jitendra Khubani addressed the audience with their inspiring words.
2) 'Excellence in Academics'
'Excellence in Academics' was the main drive in the motivational lecture delivered by Dr. V. N. Gohokar. His lecture focused on the difficulties of today's engineering aspirant. He made students realize the importance of facing their problems rather than avoiding them. His lecture was ended with a powerful statement "Do anything but with passion and have a burning desire to win".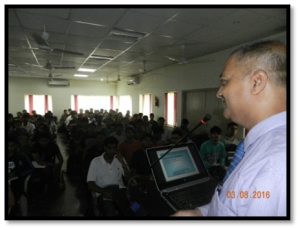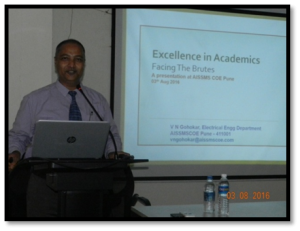 3) Faculty Visit to Skill Centre
First year Engineering Faculty visited Skill Centre developed by Fire and Security Association of India (FSAI) at Lavale, Pune to make faculty members aware about various security and Internet of Things (IOT) related concepts.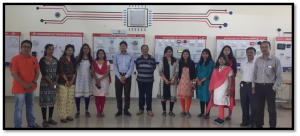 4) THINK TANK – "Systematic approach to the success"
THINK TANK Seminar Program was officially inaugurated at the Centre of Information Technology & Placements (CITP) Hall on 8th of February 2017 at the AISSMS College of Engineering, Pune. The THINK TANK is a four year long complete seminar program that aims to develop and enhance the qualities like communication skills, time management, thinking skills, body language, anger & stress management of the students.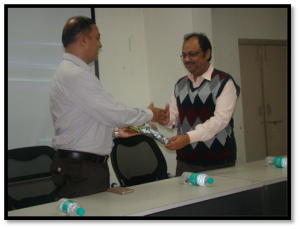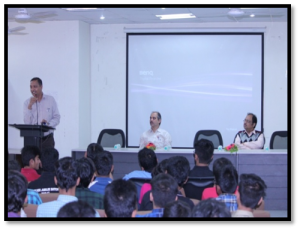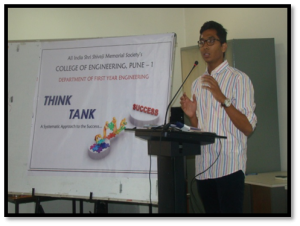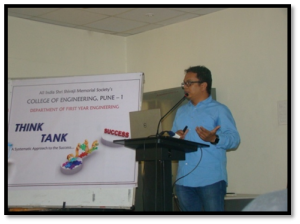 5) Felicitation of meritorious students
A Special program was held in the Department of First Year Engineering to felicitate the students who performed excellently well in their semester I of the Academic Year 2016-17. This program was organized by the faculty members and students of F.E. Mechanical Sandwich division to motivate the students and show their appreciation on a large scale.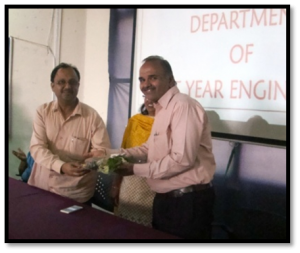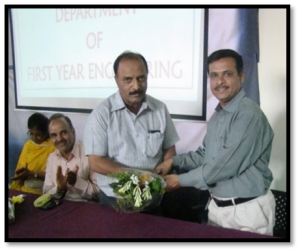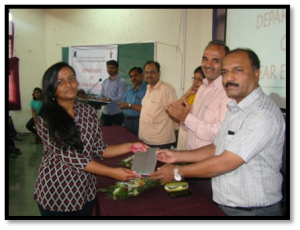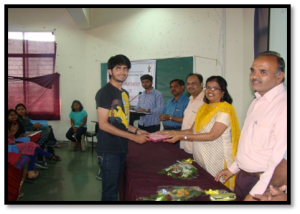 6) Social Activity Program – SOFOSH
Shreevatsa Sofosh is a non-profit organization taking care of family deprived and physically challenged children. SOFOSH stands for Society Of Friends Of the Sassoon Hospital. Students from First Year Chemical Division visited Shreevatsa Sofosh with 2 faculty members, Mrs. M. A. D'Cruz and Mrs. S. R. Nalamwar on 5th April 2017 to get a feel of a real life experience and help the unprivileged in their own little way.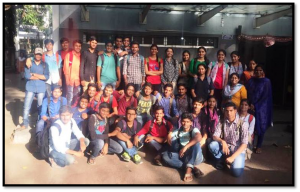 7) Medical Camp